Communication Specification
---
Domain(s)
Space
System(s)
Satellite
Specialty
COMS
Profile(s)
COMM
Specification Type
Recommendation
Citation(s)
---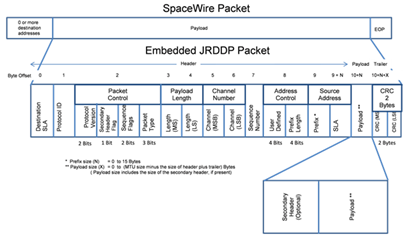 Secondary Header (Optional)
The presence of the optional secondary header is indicated by the Secondary Header Flag in the Packet Control field. If a secondary header is present, its contents and format are implementation dependent and shall be documented in a program specific document. The secondary header occupies the first bytes of the Payload field.
DATA Packets and URGENTs
The protocol's DATA packets (and URGENTs, if implemented) shall contain a Payload field containing from 0 to X bytes of content for delivery to the receive TEP. The maximum value for X is the MTU size minus the sizes of the header and the trailer. If a secondary header is present, the maximum size of the Payload field must be reduced by the size of the secondary header.
ACK and CONTROL Packets
The Payload field shall be unused (zero bytes) for ACK and CONTROL packets unless a secondary header is present.
---
Internal_Standard
"Internal Standards developed by Sandia National Laboratories". Experience Base, Sandia National Laboratories, Albuquerque, NM, 0000.