Electrical Specification
---
Domain(s)
Space
System(s)
Satellite
Specialty
ELEC
Profile(s)
CH, EXP, RP
Specification Type
Recommendation
Citation(s)
ANSI/VITA 57.1-2008 (R2010)_2008
---
A very useful option for plug-in modules is the ANSI/VITA 57 standard FPGA Mezzanine Card or FMC. This standard specifies an industry standard form factor utilizing a low profile, high-speed, high-pin count connector. The FMC connector can support very high bandwidths. The FMC approach solves the problem of how to change the I/O configuration of an FPGA design without having to redesign the core FPGA functionality. Commercially available mezzanine cards include analog-to-digital and digital-to-analog converters, communications and memory functions. The FMC connector provides a great deal of flexibility by allowing the I/O configuration to be changed by simply plugging in different mezzanine cards. An example of a JAS node with an FMC connector is shown in the photograph below.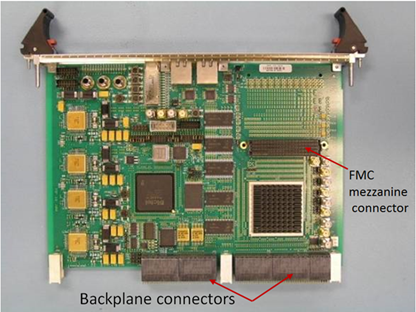 ---
ANSI/VITA 57.1-2008 (R2010)_2008
"ANSI/VITA 57.1-2008 (R2010)_2008". 0000.