Communication Specification
---
Domain(s)
Space
System(s)
Satellite
Specialty
COMS
Profile(s)
COMM
Specification Type
Recommendation
Citation(s)
---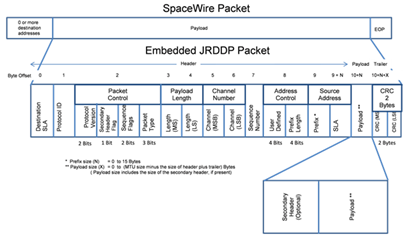 The JRDDP packet trailer shall be a 16-bit CCITT Cyclic Redundancy Check (CRC) computed from the Destination SLA to the last byte of the Payload field.
CRC
The 16-bit CCITT CRC shall be computed according to the following polynomial:

Prior to computing each packet's CRC, the initial value for the computation shall be set to all 1s.
---
Internal_Standard
"Internal Standards developed by Sandia National Laboratories". Experience Base, Sandia National Laboratories, Albuquerque, NM, 0000.