Electrical Specification
---
Domain(s)
Space
System(s)
Satellite
Specialty
ELEC
Profile(s)
CH, EXP, PS, RP, SMAC
Specification Type
Recommendation
Citation(s)
ANSI/VITA 46.0-2007 (R2013)_2013
---
While no specific node-to-node interconnection method is specified in JAS it is highly recommended that the nodes make use of a standards-based chassis and backplane such as VPX defined by VITA. The VPX standard provides high-speed switched serial interconnects between plug-in modules or nodes while providing for parallel bus interconnects as well as additional I/O capability at the plug-in module level. It is based upon the 6U and 3U Eurocard format of plug-in modules and defines a high-speed connector family for use with these modules. Photographs of a VPX chassis and plug-in module are shown below.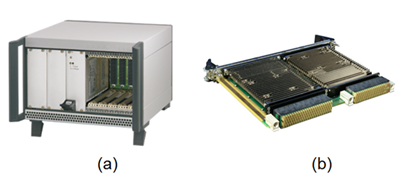 ---
ANSI/VITA 46.0-2007 (R2013)_2013
"ANSI/VITA 46.0-2007 (R2013)_2013". 0000.