Joint Architecture Standard Overview Profile
---
Domain(s)
Space
System(s)
Satellite
Profile(s)
CH, COMM, EXP, PS, RP, SMAC
---
The JAS architecture does not specify a time distribution scheme nor limit system implementations from incorporating their own methods.
Two possible time distribution schemes are presented as examples:
Fully Connected
A fully connected distribution provides a direct interface between each node and the host. Fully connected time distribution is more reliable but requires more connections to the host.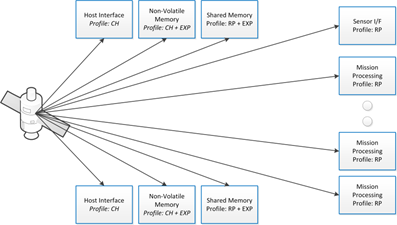 Centralized Time Distribution
Centralized distribution where each node receives time via a central distribution node. Centralized time distribution can guarantee minimal latency in terms of connection topology since nodes are one hop away from one another. However, this scheme is not as reliable and requires a fully redundant, cross-strapped central router, which implies more cabling.