Electrical Specification
---
Domain(s)
Space
System(s)
Satellite
Specialty
ELEC
Profile(s)
CH, EXP, PS, RP
Specification Type
Recommendation
Citation(s)
ANSI/VITA 46.10-2010_2010
---
The rear transition module (RTM) of the VPX standard is a plug-in module at the back of the circuit card chassis that is in line with the front plug-in module or node. The backplane connectors on the RTM are the same as those used on the plug-in nodes. Also, as with the plug-in nodes the VPX standard defines several required signals at specific RTM connector locations. The RTM is useful for bringing signals off the backplane and out to various connectors. An example of a VPX rear transition module which allows access to Serial RapidIO and SpaceWire as well as providing power connections is shown in the figure below.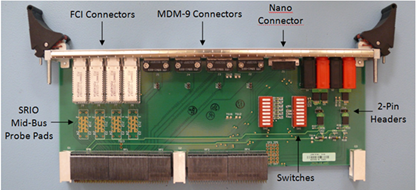 ---
ANSI/VITA 46.10-2010_2010
"ANSI/VITA 46.10-2010_2010". 0000.