Communication Specification
---
Domain(s)
Space
System(s)
Satellite
Specialty
COMS
Profile(s)
COMM
Specification Type
Recommendation
Citation(s)
---
If the link between the transmit and receive TEPs is bad, i.e. packets are corrupted or lost, and the receive TEP does not receive at least one CLOSE packet, the transmit TEP will transition to the CLOSED state after all retries have been exhausted and the receive TEP will remain in the OPEN state as shown in Figure 4.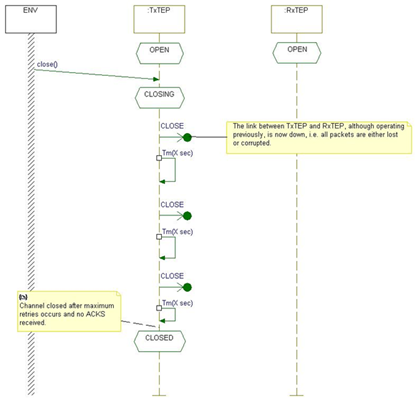 This represents the worst case scenario and results in inconsistent states between transmit and receive TEPs. The only recovery from this inconsistency is to reopen the transmit TEP's channel or perform a power down and restart. If the channel is sufficiently bad to create this condition, the power down/restart may be the only recourse in restoring the link.
Because of the "one-way" nature of the data flows in JRDDP channels there is no way to guarantee that both the receive TEP and transmit TEP know when the channel is closed. Timeouts and retries provide the most reasonable mechanism for managing the channel closing process.
---
Internal_Standard
"Internal Standards developed by Sandia National Laboratories". Experience Base, Sandia National Laboratories, Albuquerque, NM, 0000.